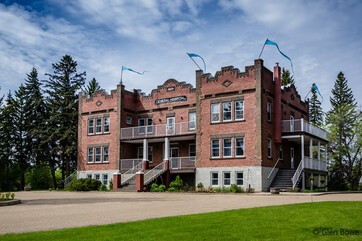 About the General Hospital
Our History
In 1892 The Sisters Servants of Mary Immaculate, an Ukrainian Catholic order was founded in Western Ukraine through the initiative of Sr. Josaphata Horodashevska.
In November of 1902 the first Sisters Servants of Mary Immaculate arrived in Edmonton with the task to help the Ukrainian immigrants community , to minister to their needs and help them preserve their religious and cultural heritage. 
By July of 1903 they founded a convent on a homestead in the Mundare area (Beaver Lake).  That began a fruitful and varied ministry which included a school, an orphanage and it was here that health care was included as part of their ministry.
During the World War I years the sisters school was converted into a temporary hospital to help the community with the ravaging Spanish influenza epidemic.  Not one patient died and more than 300 lives were saved because of the help offered.
In September of 1926, the new St. Joseph's Convent located in Mundare was blessed.  Dr. Rush from Vegreville made weekly visits to treat patients at the Sister's Convent.  Since the Government left the responsibility for health care in the hands of private or charitable institutions, Dr. Rush suggested that the Sisters build and operate a hospital.  As a result of his encouragement and that of Sister Ambrose, the Canadian Superior, a number of the Sisters were enrolled into nursing studies.
Construction of the General Hospital began in 1928, however, due to lack of funds, work was suspended during the winter.  The Sisters took out a loan for $18000.00 to complete the building and in May of 1930, the first Canadian Ukrainian Catholic Hospital was officially opened.
Dr. Strilchuk arrived in 1926.  For nearly fifty years, he provided medical, surgical and obstetrical care to Mundare and area residents out of the 24-bed general hospital.
During the Depression years the hospital struggled to survive, but the health care ministry managed to flourish under the expertise and dedication of the Sisters and Dr. Strilchuk.
In 1979 a new 30 bed hospital, named Mary Immaculate Hospital was built next door to replace the timeworn and inadequate facility.
In 1985 the old hospital building was upgraded to become Sisters' residence as they continue to serve the community in the new hospital and beyond.
In the summer of 2015 the General Hospital was sold and is now a private residence.
To Celebrate the 100th anniversary of 'Our Lady of Lourdes', a statue of Our Lady was placed in front of the Mary Immaculate Hospital in a heart-shaped flowerbed.