Attractions in Mundare
Mundare, with its rich Ukrainian cultural background, is located 85 km east from Edmonton city, about a 1-hour drive. There are a variety of recreation activities available, ie:  hockey, curling, bowling, a water park, a world-class museum, Ukraina campground and so on.
A Day in Mundare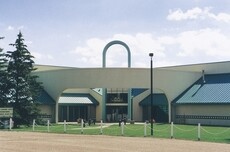 Museum
After the wonderful breakfast at Baba's attic, would you be interested in some sightseeing? Starting with our world-class museum, the Basilian Fathers Museum, you will learn Father Josaphat Jean's contribution to preserving Ukrainian culture.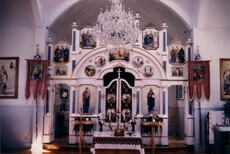 (Inside Basilian Fathers Museum)

Town Mural
Enjoy a stroll around the town and enjoy our local artists and rich cultural artwork.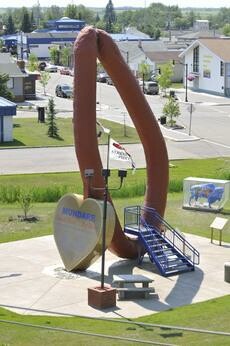 Food
Mundare is famous for its Ukrainian Home-Made Style Sausage produced by Stawnichy's Meat Processing. It is also the home of the world's largest sausage replica (12.8 metres high and 6 tons) built by the Stawnichy family.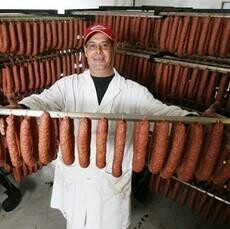 (Giant Sausage & Stawnichy's Meat Processing)
After some sightseeing, it's about noon. Why not pick up some of Mundare's world famous Ukrainian sausage from Stawnichy's Meat Processing? (view the product list) If you prefer a dine-In place, either Quality Pizza and Subs, a traditional restaurant serving Subs, Pizza, ice cream and more, or Lotus Garden, a Chineses restaurant, would be a good choice.
Activity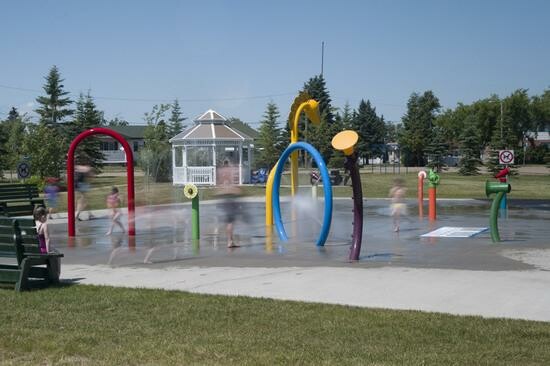 If you visit in summer with kids, the Mundare Splash Park is the right place for you and your kids to enjoy a good time, running and playing with water to cool down on a sunny hot afternoon in the spray park, scoot around in the skateboard park or bring the kids to the Mundare Public Library located inside the civic complex to explore the world through some fun reading!
Mundare has excellent other activities as well. You could have fun at the hockey arena, curling rink, numerous ball diamonds, playgrounds, bowling alley, and 18 hole Whitetail Crossing Golf Course 
Campground
What a busy day. If you travel by RV and decide to stay for a night, Ukrainian Park Recreation Area is an ideal place, providing camping stalls with electrical hookups, shower facilities, picnic shelter, playground, ball diamonds and a large fire pit.
MRC campsite is located in the town next to the Mundare Recreation Centre, and close to the spray park and skateboard park.  This site is open year-round with full hook-ups. Daily, monthly and weekly prices are available.