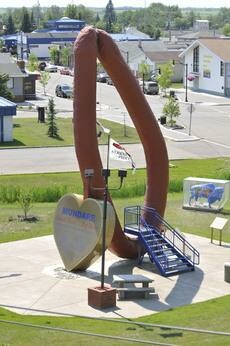 World's Largest Ukrainian Sausage
This 12.8 m (42 feet) tall statue is a tribute to Stawnichy's Meat Processing, a sausage factory famous for its kobasa. Started in 1959, the Stawnichy family, father and son, started smoking meat. Edward took over from his father in 1971, and his daughter, Cheryl Zeleny, now mixes all the spices.


Address: Sawchuk Street and 50 Avenue
Photo Gallery: Now available online!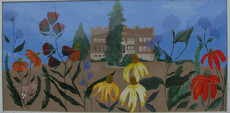 Town Mural
Enjoy a stroll around the town, and enjoy our local artists and rich cultural artwork. 
Photo Gallery: Now available online!  

      
Sports & Fitness Activities
Mundare Bowling Alley
Phone number:(780) 764-3929
There are 2 lanes located at the Town of Mundare Civic Centre Open Monday - Friday 9-4:30 pm or evening or weekends by appointment.


Mundare Curling Club
Phone number:(780) 603-1144
Great way to get in shape and have fun with friends... Please give us a call or come down and have fun!


Mundare Hockey Arena
To book your ice time call :(780) 603-0077


Mundare Oldtimers Hockey
Phone number:(780) 764-3022


Mundare Splash Park
Summer Hours are 10:00 am - 9:00pm - Sept 06 - (THE WATER PARK IS SHUT DOWN FOR THE WINTER)


Skateboard Park
Skateboard park with quarterpipe, grind rail, three-stair, grind bench, curved and banked launches.


MRC Campground
Phone Number (780)603-1073
Open year round. Full hookups. No washroom facilities or fire pits at this location.
Ukraina Park Campground
Phone number:(780) 603-1073
Open from May long weekend to Sept long weekend. No prebookings 
Featuring powered and nonpowered sites with fire pits and treed lots.
Victory Park
2 ball diamonds, washrooms, and playground.  To book ball diamonds call the town office (780) 764-3929


 Whitetail Crossing Golf Club
Phone number:(780) 764-3999
Whitetail Crossing is a fairly new golf community on 600 acres of property and located only 35 minutes east of Sherwood Park on the Yellowhead Highway